PACKAGING DESIGN DEVELOPMENT FROM GBS BRAND EXPERT COMPANY
Packaging design is an excellent opportunity to:
interest the customer;
tell about your product's benefits;
distance your product from the competitors.
Packaging developed in a right way is an integral part of a successful brand, it is a means of communication between the seller and the customer. An attractive packaging affects both spontaneous and planned purchases. No matter how qualitative and affordable your product is, if it has a bad, nondescript packaging, it will never attract customers.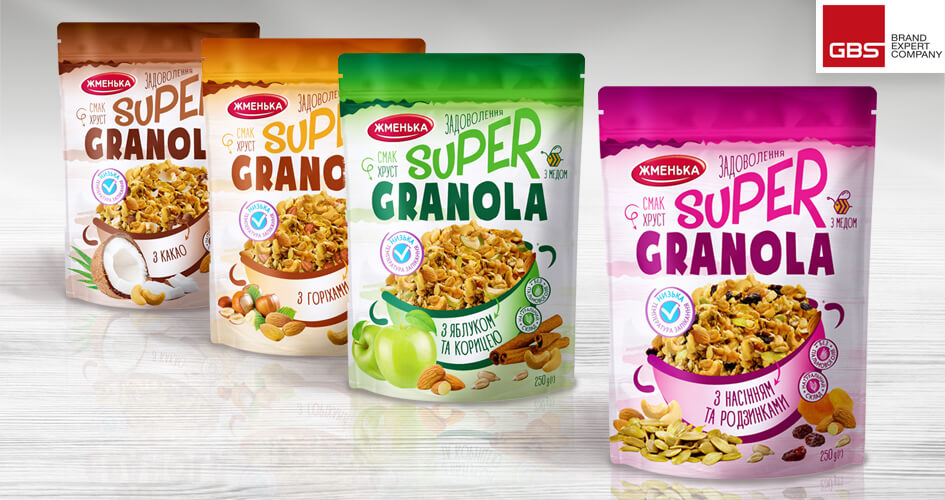 TM Zhmenka granola packaging design development from GBS Brand Expert Company
Let us reveal you a little secret: packaging design development at our company is carried out on the principle of AIDA (Attention, Interest, Desire, Action). The point of this principle lies in the following: any advertising should first attract the customer's attention, then arouse his interest and desire to possess the given product, and, finally, encourage the customer to purchase (action).
Customer's attention can be drawn with the heading, impressing image, unusual color or packaging form, original positioning of selling elements. Following that, the customer's interest should be stimulated, for instance, with the content placed on the packaging, upon reading which, the customer will come up with a thought: "This is exactly what I need!" or "I have been looking for it for a long time!", followed by "I must buy it!"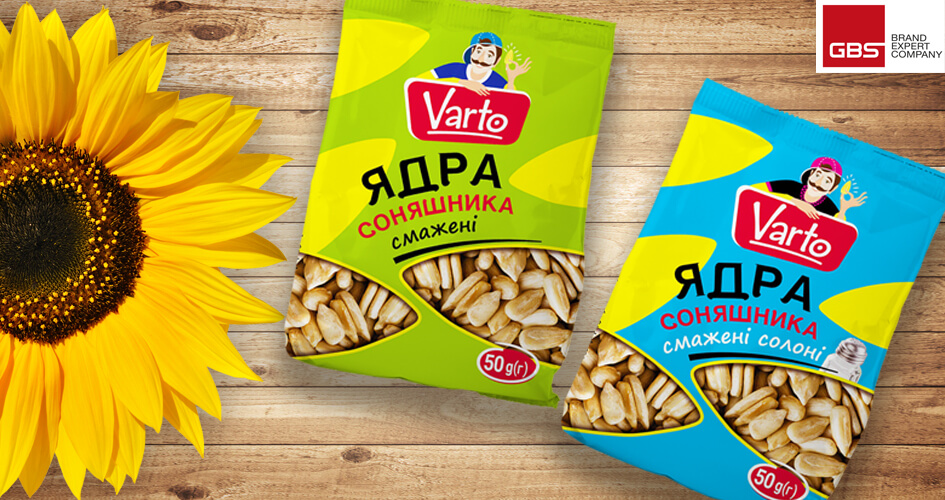 Sunflower seeds packaging design for private label VARTO (VARUS supermarket chain) from GBS Brand Expert Company
Usually, packaging design development consists of several stages:
Assignment composition (market and competition analysis, target audience clarification, determination of positioning and selling points, packaging and printing adjustment, for instance, offset printing, flexographic printing, rotogravure).
Analysis, briefing and brainstorm, in which the marketers, creative director and designers of GBS Brand Expert Company take part.
Packaging design concept development, which is submitted for the orderer's alignment in the form of mocaps, i.e. design models, in which the packaging design is applied to a specific product to amply demonstrate how it would look in reality.
Design development, infographics elaboration, text layout and fonts adjustment, preparation of the aligned design concept to print according to the technical requirements of the printing house.
Printing recommendations, printing technology selection and supervision (if needed).
As a result you get packaging oriented precisely towards your target audience; packaging "speaking" to the customer and draws attention on the shelves.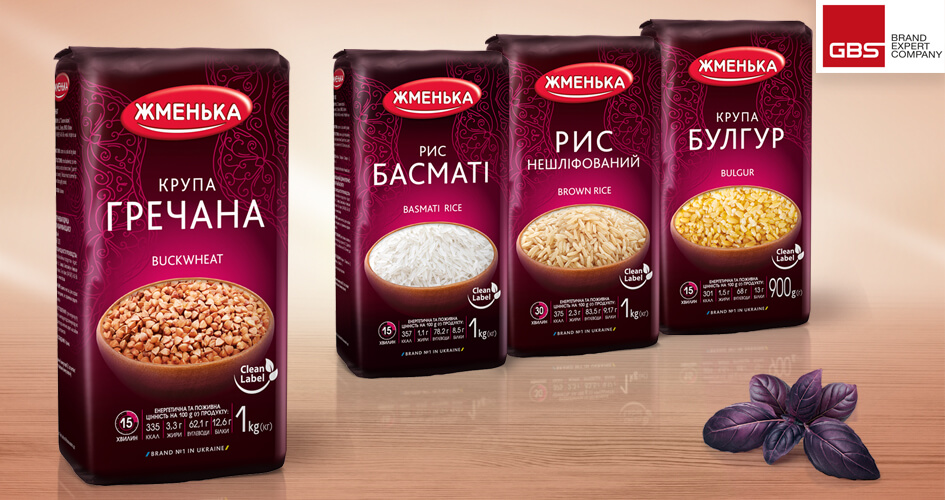 TM Zhmenka cereal packaging design development from GBS Brand Expert Company
Packaging design development should also meet certain criteria, namely:
Packaging color – while selecting the identifying colors of the packaging, the competitive environment should always be taken into account. The packaging colors should not be repetitive, it is also important to consider the appearance of the product and its purpose;
Packaging informativeness – the text placed on the package always attracts a customer's attention only for a few seconds, therefore it should be easy to perceive and tell about the benefits of the product or the trademark from the first glance;
Text readability – there are certain requirements for packaging marking of food and non-food goods an experienced designer should know; along with this, the text should be succinct, easy and clear for any age category;
Corporate identity – the design concept of the packaging should be in line with the general concept of the company's corporate identity to enhance the brand's recognizability.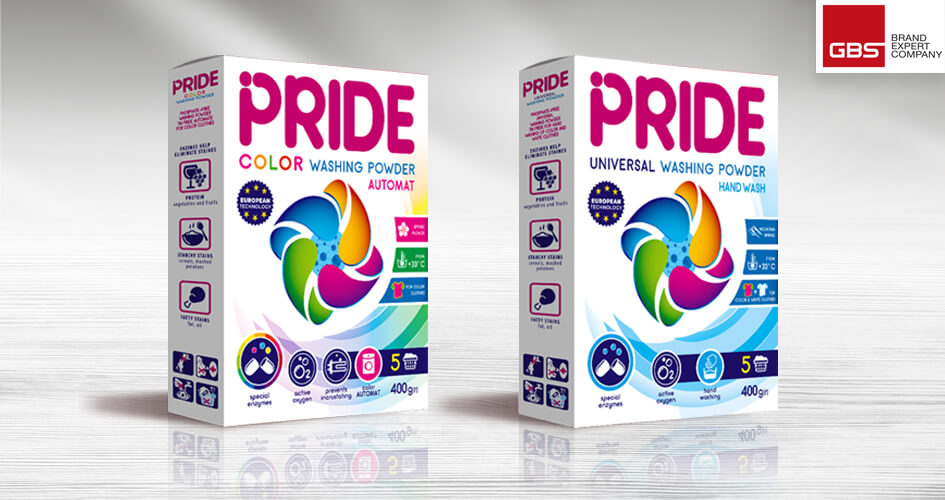 TM PRIDE washing powder packaging design by GBS Brand Expert Company
Packaging design development price depends on marketing goals pursued by the client, namely:
The price segment of the product, for instance, packaging design concept development for pasta of premium and medium segments will differ in appearance and price consequently;
Product category, for example, packaging design concept development for tea and for sausages are different in complexity, therefore will be different in terms of price;
Package construction and manufacturing method, for example, a carton package of washing powder, a polymer cereal package or a dairy doypack.
The quantity of infographics, supporting texts and the package size.
Each project is unique, so the price of packaging design development is calculated individually. If you choose to order design concept development for only one packaging, without creating a lineup or adapting it into a new typographic size, the price of the services will be higher. If you order the design of a package and the whole lineup, for instance, potato chips packaging design for different tastes, then the price will be significantly lower.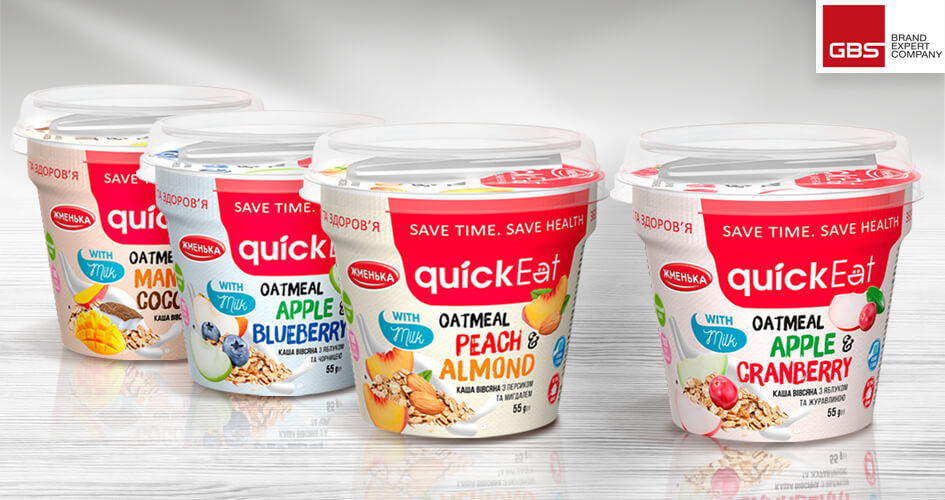 TM Zhmenka oatmeal packaging design development from GBS Brand Expert Company
Packaging design development is impossible without the brand's positioning, logo, corporate identity and the USP (unique selling point). These elements are what the design of the package is built at. Together with packaging design we are usually ordered the following services:
infographics development;
label design/redesign;
glass bottle design;
PET bottle design;
The specialists of GBS Brand Expert Company have vast experience in packaging design development for food and non-food products and also with private trademarks. We have developed thousands of package designs for TM Varus, TM Vygoda, TM Nasha Porada, TM Supero, TM Melochi Zhizni, TM Premiya, ТМ Easy&Good, TM Po-Nashemu and for many others. This is packaging concept development for food, alcohol beverages, household chemicals, cosmetic products and various related products.
Order packaging design development in GBS Brand Expert Company and get a design developed in the right way, unique, unusual, that will positively affect the recognizability and popularity of your brand, and will increase the sales numbers of your product.
Back call
Fill out the form and our manager will contact you shortly.