Corporate identity development in GBS Brand Expert Company
Corporate identity is a set of identifying elements: graphic, color, and verbal. Taken together, they create a harmonious semantic cohesion of services and products of a certain company. Corporate identity is more precisely called "the system of visual identity" of a trademark. Corporate identity development is an essential component of brand creation.
Corporate identity is the way of brand's individual image forming, since the components of corporate identity help customers find precisely your product, service or offer, thus forming a positive impression of your company. This is, in a way, a data carrier, which distances your company from competitors.
The essence of corporate identity is directly linked with the concept of image. It is similar to a shell, filled with certain content. Thus, this shell, bolstered with public relations events (PR), create the company's image.
Corporate identity is an effective instrument, that provides:
attraction of new clients;
market position reinforcement;
trust increase towards the firm;
firm's individuality;
the possibility to highlight the company among competitors;
product protection from forgery.
Original identity is an indispensable condition for company's success. GBS Brand Expert Company specializes at creating this kind of unique identity. Our team are professionals who know and love their craft.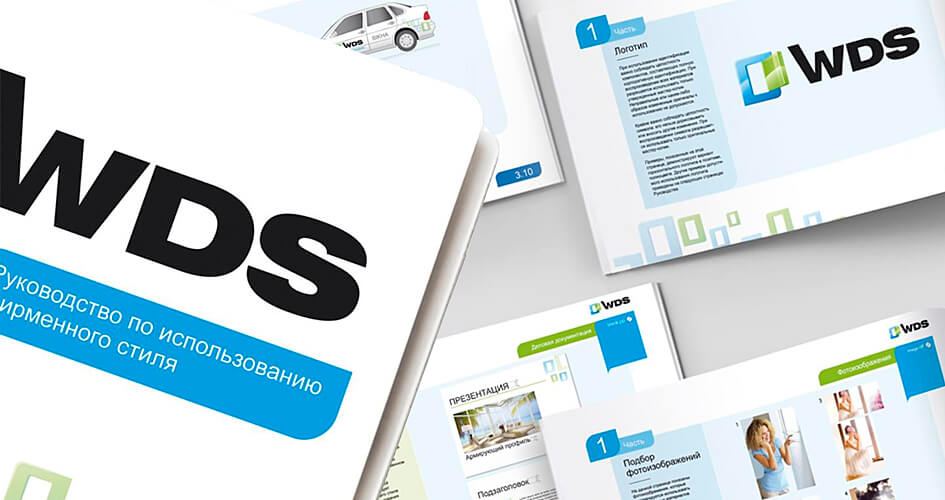 TM WDS corporate identity, created by GBS Brand Expert Company
When is it necessary to develop a corporate identity?
There are two opinions about when you need to develop your corporate identity:
as soon as the company was formed;
as the stable direction of activity is established.
However, it is best to pay attention to corporate identity always, beginning from the first days of firm existence.
Starting firms need to have their own trademark sign (graphic or verbal designation) registered if the company plans further development. Business offers, letters with a trademark will not go unnoticed. Even if the company colors or support elements of the corporate identity will be adjusted in the future, the trademark, the main style-forming element, will remain and the identity of the company will be preserved.
While creating a corporate identity, one should stick to such rules:
At first, highlight the essence, create an image by means of developing the style-forming constants, then gradually develop other components. The most important thing is to maintain the general style that would work for the company's image.
It is advisable to use the services of one design team for the development of firm image carriers. It is the right way to achieve the cohesion of all carriers and corporate identity elements.
It should be distinguished that the concept of corporate identity is interpreted in a narrow and broad sense. In the first case, it is a combination of the trademark and corresponding advertising messages. Many firms don't go beyond the narrow concept of corporate identity.
In a broad sense, it is the usage of general design principles and color combinations for all types of advertising. The important point which shouldn't be missed is that the corporate identity creation should be concerned from the very beginning. A firm that started its activity without certain attributes can easily and quickly lose the image of its company.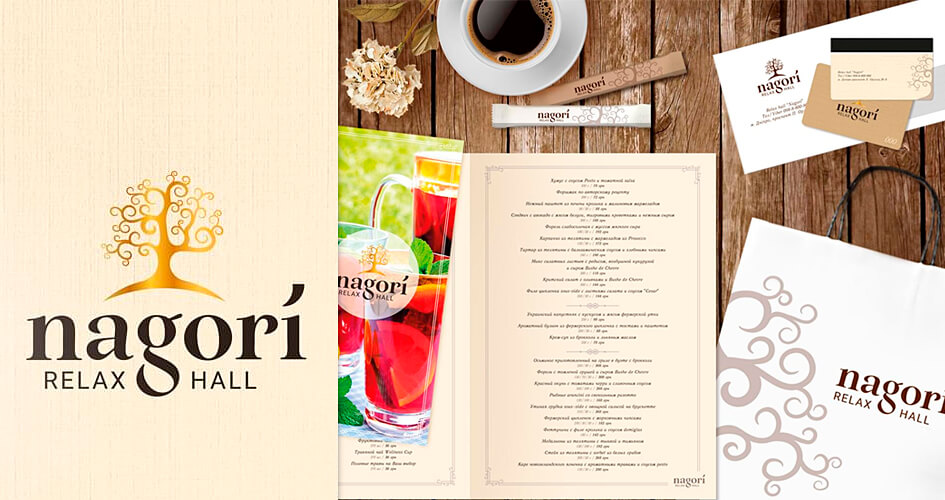 Nagori complex corporate identity, developed by GBS Brand Expert Company
The main components of corporate identity
Let's consider the main elements:
trademark (verbal or graphic);
logo;
color scheme;
corporate font;
firm block;
web page making scheme;
slogan;
printing formats;
advertising symbol;
audio image.
The main element of corporate identity is the trademark. It is a registered visual and verbal designation which is used to identify specific goods and services. Such designation helps to distinguish the goods and services of certain firms from others, also protecing the products from unscrupulous competitors.
There are five types of trademarks: verbal, graphic, 3D, sound and combined.
Verbal trademarks are verbal constructions that should compose a word. This may be either a known or a new word, which would meet the criteria of novelty. This kind of trademark is called a logo.
Graphic trademarks are any images that meet the criteria of novelty of goods and services. These may be objects, animals, figures or abstract images.
3D trademarks are voluminous images in three dimensions.
Sound trademarks are registered melodys and sounds.
Combined trademarks are the combination of verbal construction and images.
Color scheme is a powerful means of identification of a company or a brand, so it can be used as the main component while creating the logo and the corporate identity system. Certain colors are chosen for both verbal and graphic trademark design, that create the main image and evoke certain associations with a particular company and its activity. That's why it is very important to consider the color effect on the customer and with what kind of activity given color is associated. The form and area occupied by the color and its psychological compatibility should also be considered. As a rule, the corporate identity consists no more than two colors, a multitude of colors is highly undesirable. This can be caused by the following reasons:
color multiplicity can irritate and is quite rare to look coherent;
the problems of color reproduction are possible.
Also, while selecting the corporate colors, the possibility of their correct reproduction to printed matter. It is not always possible to transfer all shades of color, especially when it comes to printing with unmixed dyes. The company's color shouldn't be changed in various advertisements, as the color has its legal protection in case the trademark is registered specifically in this color. If the sign is registered in black and white, it is legally protected in any color reproduction.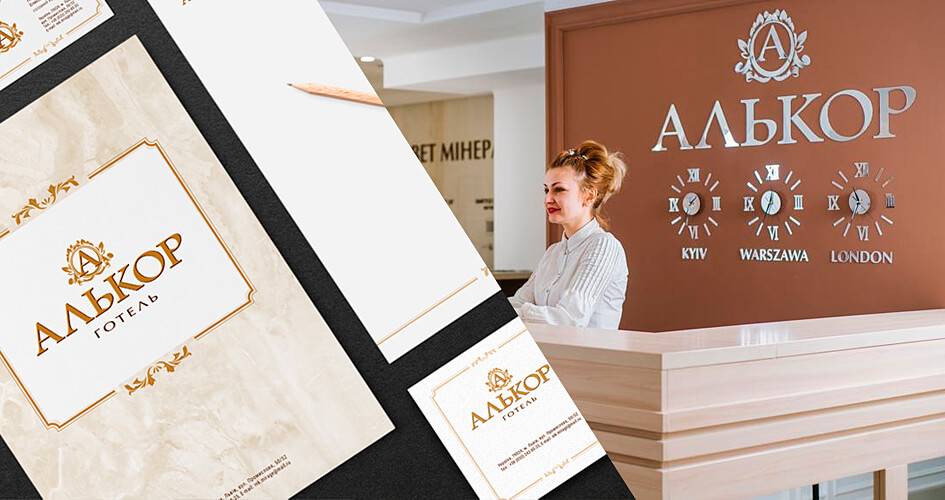 Hotel Alcor identity, developed by GBS Brand Expert Company
The firm block includes trademark, company name, mail and bank details, goods and services list, advertising symbol of the enterprise and slogan. The firm block can be used in various cases: from forms decoration to packaging design. Sometimes the firm block includes the official name, requisites and the symbol of the company, goods and services list, graphic elements and individual phrases. It is good to use the firm block as a stationary element at the heading of official documents, at a business card or product package.
Various objects with any elements that identify the brand can be the corporate identity carriers. These elements can be conditionally divided into categories:
Official documentation elements: business cards, firm forms, envelopes, folders, notebooks and administrative documents, in a word, everything that provides activity inside the company. These can be identity documents, badges, and passes.
Advertisement printed materials include various presentation catalogs, booklets, brochures, corporate magazines, leaflets, and calendars.
Web and electronic corporate identity carriers provide site design, presentations, and video.
Souvenir and presentation advertising production: pens, souvenirs, keychains, cars and promotional tents, which are the situational carriers of the corporate identity.
Packaging elements, such as plastic bags, wrappers, boxes and bags, which can serve as a means of transport and storage of special equipment.
Branded uniform of the staff increases the trust level on the part of customers.
Interior, exterior and decor elements play a significant role in brand presentation.
Print products scheme is an essential component to have for any company, as with usage of familiar for customers form of printed matter increases the memorability and recognizability of advertising. Any such ad forms an image of company for the customer.
The printing format shared between all corporate printed matter contributes to advertising and information materials' recognizability. A certain corporate permanent character, which is given a set traits also included in the company's image can be an element of the corporate identity as well. This role of corporate style component can be performed by a constant communicator ("the face of the company"), a real person.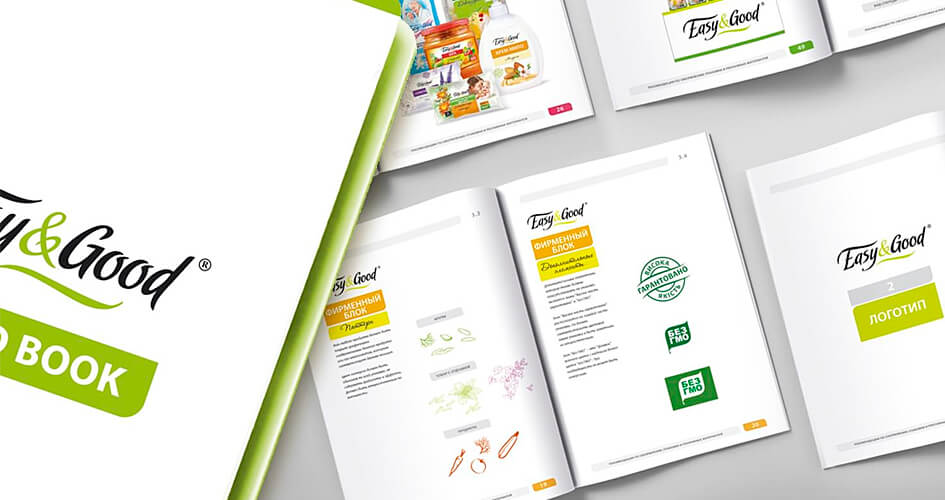 Corporate identity development for Easy&Good private label by GBS Brand Expert Company
Special signatures and pictograms, denoting trade groups and the other useful information, can be developed by the company. Corporate identity has hundreds of elements, although far fewer are used in practice. Everything depends on the specifics and the kind of company's activity.
Slogan is a short phrase, the company's or product's motto. Slogan gives exceptional significance to the company's image. This is an integral part of corporate identity, and can even be registered as a trademark, reflecting the corporate specifics, promoting company's difference from the competitors. Slogan succinctly conveys the main idea and thought.
For acting in step with the times it is necessary to undertake corporate identity restyling. It can be complex as well as aimed at particular elements. There are three main reasons due to which restyling can be carried out:
The passage of time, technological development and priority change can make slogan outdated and irrelevant. Many companies resort to means of restyling to sustaining of their image.
The shift of activity or firm's new direction can become a reason to corporate style's change.
The reason can also be the willingness to increase the sales numbers and make the company more sought after.
In case the corporate identity was found and, over time, an objective need for restyling has arisen, it is best to use the services of GBS Brand Expert Company, who are capable of adjusting the corporate identity professionally.
Every necessary trademark components should be recorded in one place – the brand book, or the brand guide. Building on the brand book, the company positions itself on the market and develops the strategy of communication with clients. GBS Brand Expert Company also offers this type of service, which is an integral part of corporate identity.
The logo design, harmonious color, font and graphic elements' combination – this is what creates the corporate identity of any company that will be remembered from the first glance and will remain recognisible in the future.
We will always be able to realise your wishes! The GBS Brand Expert Company team are professionals, who know and love their craft! We have vast experience in development and creating of memorable corporate identities!
Back call
Fill out the form and our manager will contact you shortly.